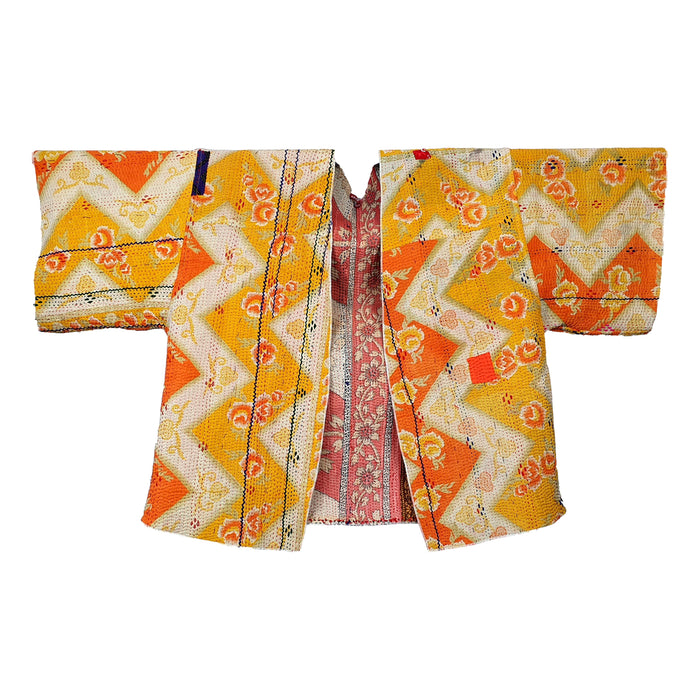 Vintage Cotton Kantha Kimono | Textile Art
This gorgeous kimono has been upcycled from a vintage cotton kantha quilt from India. It is a unique piece to be worn or displayed as a work of textile art.
★ 100 % Cotton
★ Body Length 72 cm
★ Pit to Pit 72 cm
★ Sleeve Width 36 cm
★ Sleeve Length 36 cm
★ Approximate Weight 600g
★ Hand Wash in Cool Water
★ Hand Made and Fair Trade
More on Kantha:
These textiles are handmade from layers of upcycled cotton saris held together by a running "kantha" stitch - a traditional style of Bengali embroidery. This brings to life a resource that may otherwise have been discarded and also generates a useful income for marginalised communities living in rural areas of India and Bangladesh.
The resulting kantha quilts may be patched, or show signs of wear and tear revealing a layer beneath adding charm and individuality. We believe this adds character with a unique story behind each piece.
All textiles are gently cleaned before being made into the finished article.
★★ The colours of the products may appear different on different monitors ★★